ADDITIONAL READING RESOURCES
All these books come highly recommended by me (Royce). I have read them many, many times and use them continually in training others. They are well worth your time. Good principles for both sacred and secular organizations. Of course there are my books on specific leadership topics —
---
The 5 Levels of Leadership
True leadership isn't a matter of having a certain job or title. In fact, being chosen for a position is only the first of the five levels every effective leader achieves. To become more than "the boss" people follow only because they are required to, you have to master the ability to invest in people and inspire them. To grow further in your role, you must achieve results and build a team that produces. You need to help people to develop their skills to become leaders in their own right. And if you have the skill and dedication, you can reach the pinnacle of leadership-where experience will allow you to extend your influence beyond your immediate reach and time for the benefit of others.
The 5 Levels of Leadership are:
1. Position – People follow because they have to.
2. Permission – People follow because they want to.
3. Production – People follow because of what you have done for the organization.
4. People Development – People follow because of what you have done for them personally.
5. Pinnacle – People follow because of who you are and what you represent.
Through humor, in-depth insight, and examples, internationally recognized leadership expert John C. Maxwell describes each of these stages of leadership. He shows you how to master each level and rise up to the next to become a more influential, respected, and successful leader.
---
Crucial Conversations
The New York Times business bestseller that has transformed organizations and changed the way millions of people communicate. With more than 4 million copies sold, this book—now in its second edition—gives you the tools to prepare for high-stakes conversations, transform anger and hurt feelings into powerful dialogue, and make it safe to talk about almost anything. Get unstuck with best practice skills for high-stakes interactions.
UNLOCK YOUR FREE CRUCIAL CONVERSATIONS RESOURCES
Introducing a special value for book readers – the following FREE resources (a $275 value) are used in the award-winning Crucial Conversations Training program. They are being offered to you at NO COST. All you have to do is fill out the form on this page.
Access to the Video Vault
Watch the on-demand webinar
Authors' Discussion Questions
Cue Yourself with the Crucial Conversations Model
Assess your own "Style Under Stress" Online
Listen to Audio Lessons from the Authors
---
What Is A Healthy Church?
What is an ideal church, and how can you tell?
How does it look different from other churches? More importantly, how does it act differently, especially in society? Many of us aren't sure how to answer those questions, even though we probably have some preconceived idea. But with this book, you don't have to wonder any more.
Author Mark Dever seeks to help believers recognize the key characteristics of a healthy church: expositional preaching, biblical theology, and a right understanding of the gospel. Dever then calls us to develop those characteristics in our own churches. By following the example of New Testament authors and addressing church members from pastors to pew sitters, Dever challenges all believers to do their part in maintaining the local church. What Is a Healthy Church? offers timeless truths and practical principles to help each of us fulfill our God-given roles in the body of Christ.
---
God's Wisdom for Navigating Life
From pastor and New York Times bestselling author Timothy Keller comes a beautifully packaged, yearlong daily devotional based on the Book of Proverbs.

Proverbs is God's book of wisdom, teaching us the essence and goal of a Christian life. In this 365-day devotional, Timothy Keller offers readers a fresh, inspiring lesson for every day of the year based on different passages within the Book of Proverbs. With his trademark knowledge, Keller unlocks the wisdom within the poetry of Proverbs and guides us toward a new understanding of what it means to live a moral life. God's Wisdom for Navigating Life is a book that readers will be able to turn to every day, year after year, to cultivate a deeper, more fulfilling relationship with God. This makes a perfect companion to Keller's devotional on the Psalms, The Songs of Jesus.
---
The 360 Degree Leader
As one of the globe's most trusted leadership mentors, John C. Maxwell debunks the myths that hold people back from leaning into and developing their influence. In this inspiring call-to-action, he shows middle managers how to leverage their unique positions and become 360 degree leaders by exercising influence in all directions–up (to the boss), across (among their peers), and down (to those they lead).Readers will learn how to overcome the challenges facing the vast majority of professionals, including the pressures and pain points that come from being caught in the middle, and will gain the confidence and competence to step into their roles as significant influencers. There are endless opportunities for those trying to lead from the middle of an organization. Complete with a workbook to help you personalize your leadership journey and the authors' plethora of stories, studies, and development models and strategies, 360 Degree Leader equips you with the skills you need to begin making a difference in your organization, career, and life, today–with or without the promotion. From what you are, your influence is already greater than you know.
---
Good Leaders Ask Great Questions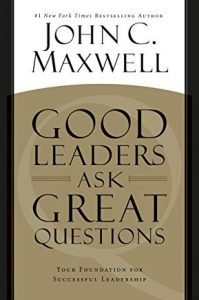 John Maxwell, America's #1 leadership authority, has mastered the art of asking questions, using them to learn and grow, connect with people, challenge himself, improve his team, and develop better ideas. Questions have literally changed Maxwell's life. In GOOD LEADERS ASK GREAT QUESTIONS, he shows how they can change yours, teaching why questions are so important, what questions you should ask yourself as a leader, and what questions you should be asking your team.
Maxwell also opened the floodgates and invited people from around the world to ask him any leadership question. He answers seventy of them–the best of the best–including . . .
What are the top skills required to lead people through difficult times? To lead yourself through life?
How do I get started in leadership?
How do I motivate an unmotivated person?
How can I succeed working under poor leadership?
When is the right time for a successful leader to move on to a new position?
How do you move people into your inner circle?
No matter whether you are a seasoned leader at the top of your game or a newcomer wanting to take the first steps into leadership, this book will change the way you look at questions and improve your leadership life.
Parenting: 14 Gospel Principles That Can Radically Change Your Family
Winner of the ECPA Book of the Year Award for Christian Living
What is your calling as a parent?
In the midst of folding laundry, coordinating carpool schedules, and breaking up fights, many parents get lost. Feeling pressure to do everything "right" and raise up "good" children, it's easy to lose sight of our ultimate purpose as parents in the quest for practical tips and guaranteed formulas.
In this life-giving book, Paul Tripp offers parents much more than a to-do list. Instead, he presents us with a big-picture view of God's plan for us as parents. Outlining fourteen foundational principles centered on the gospel, he shows that we need more than the latest parenting strategy or list of techniques. Rather, we need the rescuing grace of God—grace that has the power to shape how we view everything we do as parents.
Freed from the burden of trying to manufacture life-change in our children's hearts, we can embrace a grand perspective of parenting overflowing with vision, purpose, and joy.
---
The Meaning of Marriage: Facing the Complexities of Commitment with the Wisdom of God

Based on the acclaimed sermon series by New York Times bestselling author Timothy Keller, this book shows everyone—Christians, skeptics, singles, longtime married couples, and those about to be engaged—the vision of what marriage should be according to the Bible.
Modern culture would have you believe that everyone has a soul mate; that romance is the most important part of a successful marriage; that your spouse is there to help you realize your potential; that marriage does not mean forever, but merely for now; and that starting over after a divorce is the best solution to seemingly intractable marriage issues. But these modern-day assumptions are wrong. Timothy Keller, with insights from Kathy, his wife of thirty-seven years, shows marriage to be a glorious relationship that is also misunderstood and mysterious. The Meaning of Marriage offers instruction on how to have a successful marriage, and is essential reading for anyone who wants to know God and love more deeply in this life.
---
Full Disclosure: If you follow these links to buy on Amazon, The Caris Group gets a very small percentage of the sale. Your cost is no different than going directly to them, Amazon just gives its affiliates a token for sending you to them for the sale.